Introduction to the Dedicated Team at Ranger Red's Zoo & Conservation Park
At Ranger Red's Zoo & Conservation Park, we are proud to have a team of dedicated professionals who work hard to provide the best possible care for our animals and an exceptional experience for our visitors. Our team is made up of a diverse group of individuals with a passion for wildlife and a commitment to conservation. In this article, we will introduce you to some of the key members of our team and provide an insight into their backgrounds and roles at the park.
Co-owner and Director Bradley R Holland
Bradley R Holland, also known as Ranger Red, is the Co-owner and Director of Ranger Red's Zoo & Conservation Park. Growing up in the semi-rural suburbs of Kenwick and Maddington, Bradley was surrounded by all sorts of pets, including dogs, cats, birds, goats, guinea pigs, rabbits, and reptiles like bobtails and dugites. He spent some of his formative years working at a goat dairy and one of Perth's first wildlife parks, where he acted as a miniature train guard and occasionally helped with koala photographic sessions. Horses also played a significant role in Bradley's childhood.
As a child, Bradley was greatly influenced by Dr Harry Butler, who greeted him at the Perth airport with a Stimson's Python specimen and inspired him to deliver educational talks on the snake's biology and habitats. After completing his training in performing arts at the Australian Theatre for Young People in Sydney, Bradley spent 14 years at the home of Harry Carr, where he was exposed to a variety of birds, mammals, reptiles, and even a Crab-eating Macaque. He has been involved with a number of wildlife parks and zoos, serving as the president of several aviculture societies and as a member of marsupial, herpetological, and primate associations.
In 2010, Bradley returned to Western Australia to establish Reds Roving Australian Wildlife Displays and eventually realized his dream of transforming it into a private zoo. In 2019, he purchased Peel Zoo with the help of business partner Peter Frank Mascaro and rebranded it as Ranger Red's Zoo & Conservation Park in August 2020.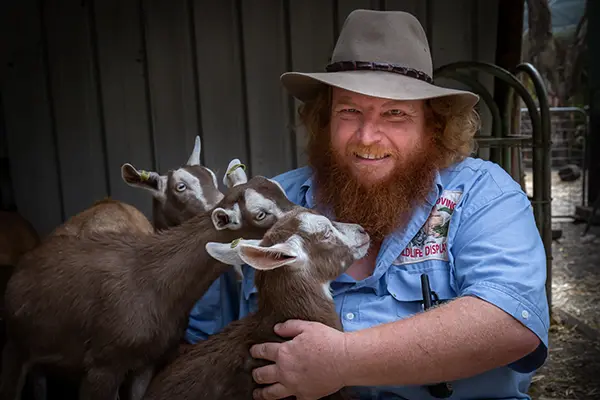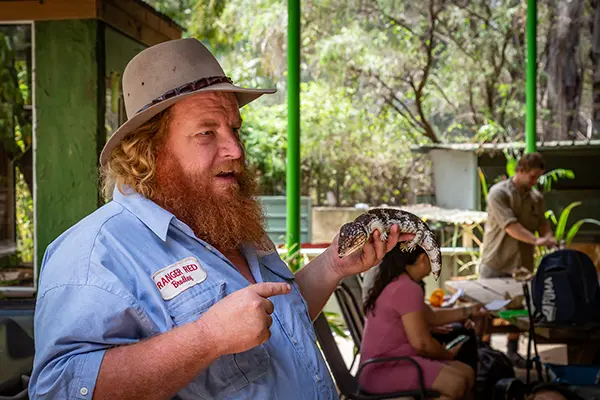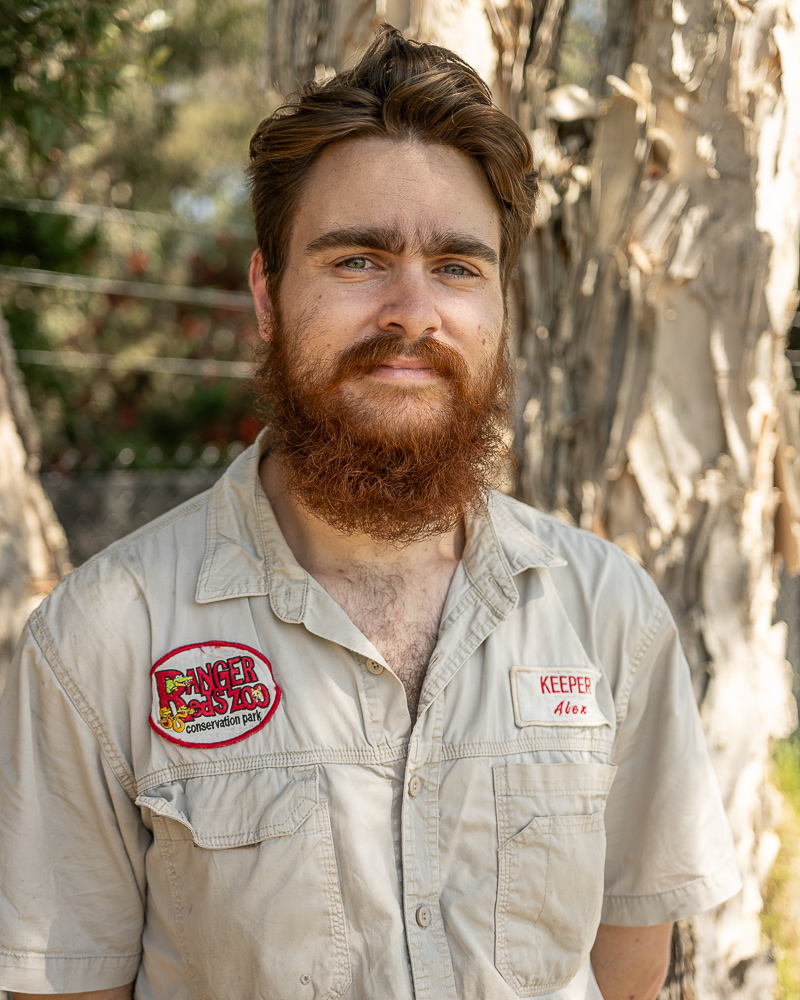 Alex
Keeper
Meet Alex. With a degree in conservation and wildlife biology, he brings a fresh perspective and a passion for the natural world, especially birds, reptiles, and prehistoric creatures. His favorite animal? The magnificent Red-tailed Black Cockatoo.
As an animal ambassador at the park, Alex hopes to inspire visitors to appreciate and protect the incredible creatures that call the zoo home. He loves to share information about conservation efforts and draw comparisons with their extinct relatives to highlight the importance of preserving our planet's biodiversity.
Growing up surrounded by local wildlife and livestock in the rural Perth Hills, Alex feels right at home caring for all the animals in the zoo, from the smallest lizards to the ever-growing herd of camels. In his free time, he can be found playing the latest Pokémon games or indulging in his love of learning through self-teaching and research.
For Alex, spreading awareness about conservation and Australian wildlife is not just a job, it's a personal passion. He aspires to share his knowledge with anyone who will listen and make a positive impact on the world.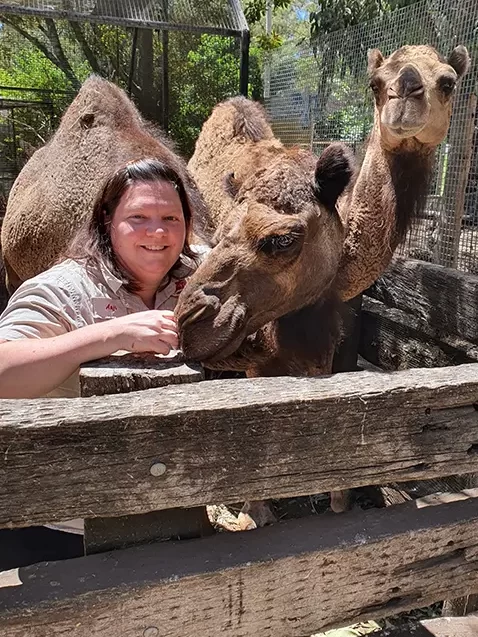 Anja
Admin, 2IC and 4th Year Veterinary Student
Meet Anja, a dedicated member of the Redz Zoo team since 2021. Originally from Germany, she is PA to Red, responsible for bookkeeping and other administrative tasks at the zoo, second in charge and 4th year Veterinary student. Before following her passion for animals, Anja worked in various banks in Germany for which she holds a Diploma in Banking and Finance. 
Anja graduated with a Bachelor of Science from James Cook University in 2016 and is currently in her fourth year of studying veterinary medicine at Murdoch University. Her passion for wildlife and exotics is evident, and she also supports the keepers and veterinarians in caring for the animals at the zoo and during mobile displays.
Anja has gained extensive experience working at different wildlife clinics across Australia and Europe, including the RSPCA Wildlife Hospital in Brisbane, the Byron Bay Wildlife Clinic in NSW, and the Frankfurt Zoo in Germany. She has also completed wildlife care training with North Queensland Wildlife Care Inc and volunteered with the Calamunnda Camel Farm for over two years. In her free time, Anja loves to travel off the beaten track and spend time outdoors.
Anja's favourite animals are camels, as she used to have a pet camel of her own. With her impressive qualifications and experience, Anja is a valuable member of the Redz Zoo team and a true animal lover.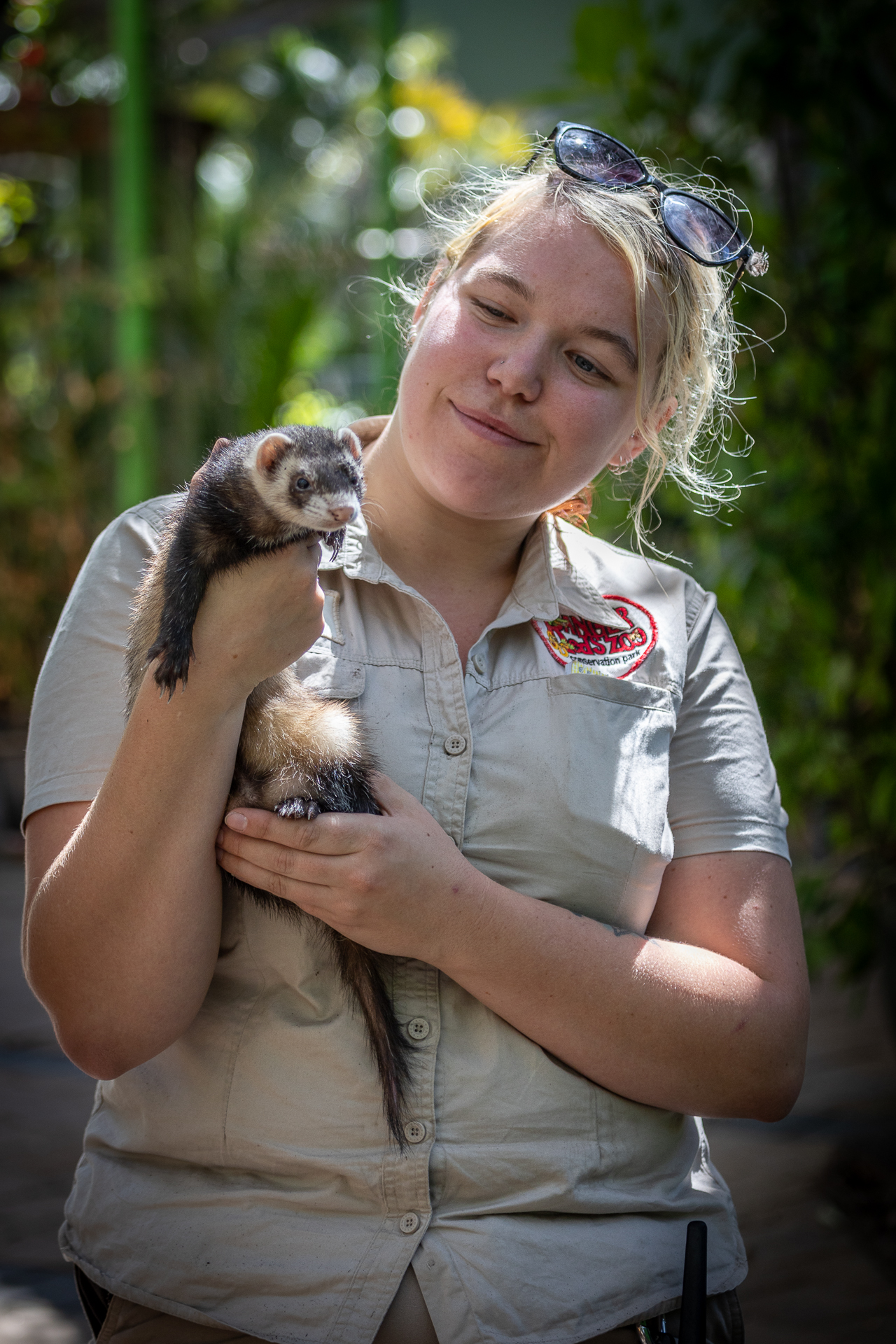 Brianna
Educator
Meet Brianna, one of the dedicated keepers at Ranger Red's Zoo & Conservation Park. She's responsible for multiple roles, including being a Zookeeper and an Educator in the 'Zoo2U' program. Brianna's hard work and dedication as a volunteer paved the way for her to become part of the zoo team in 2020.
Brianna recently completed her Bachelor of Science in Marine Science/Biology from Murdoch University, graduating with the class of 2022. In her free time, she loves snorkelling in the local waters, exploring the underwater world and keeping an eye out for the marine wildlife, especially dolphins – her favourite animal. In the future, she aspires to work closely with the marine community, to get more involved in the water, learn more about the ocean and its inhabitants.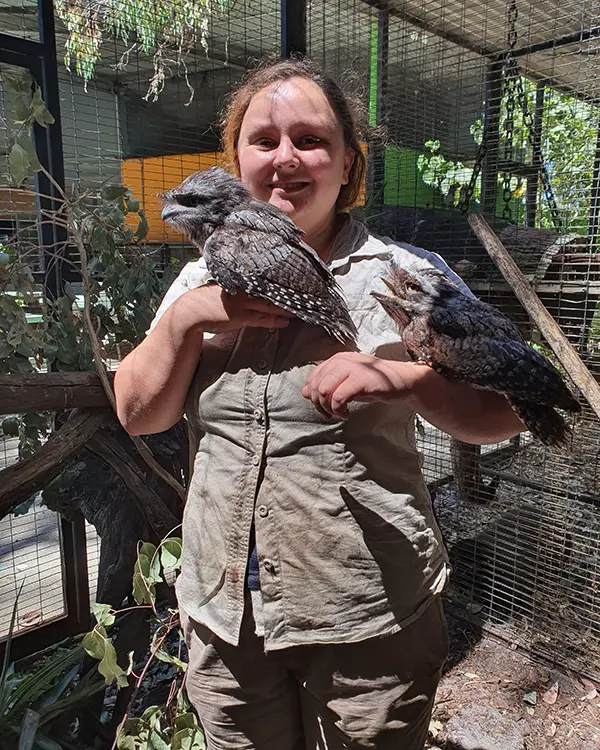 Makaela
Keeper
Say hello to Makaela, one of our amazing keepers at Ranger Red Zoo. Makaela's journey with us began as a volunteer, and she's now been a dedicated keeper for nearly three years.
Animals have always been a huge part of Makaela's life. As a child, she would spend hours outside, searching for bugs to bring inside and observe (much to her mother's dismay!). It's no surprise that she's now studying towards a degree in Conservation Wildlife Biology and Environmental Science in her spare time.
Makaela's household has always had animal companions, and she couldn't imagine working indoors at a desk or behind a counter. Being a keeper is a dream come true for her, and she feels honored to care for and protect the incredible creatures that call the park home.
Whether it's a towering giraffe or a tiny insect, Makaela's love for wildlife knows no bounds (except for maybe mosquitoes!). She believes that dedicating her life to the welfare of animals is the most rewarding and fulfilling career path she could have chosen.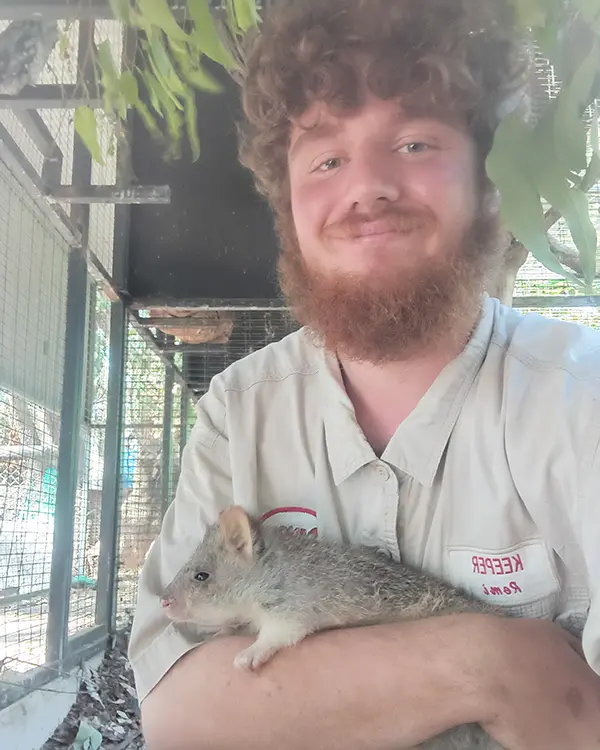 Remi
Keeper
This is Remi, one of the dedicated Zookeepers at Redz Zoo. Remi was born in Northam and has always had a passion for animals. The first animal he ever handled was a Bobtail Lizard! His love for wildlife led him to volunteer at Just Joeys Marsupial Care in Mandurah, where he helped care for injured animals. After that, he spent 7 months volunteering at Redz Zoo before a Keeper position became available and he joined the team.
Remi's commitment to animals is not just based on experience, as he also has a Diploma in Zoology which he earned after finishing Year 12. At Redz Zoo, Remi has had the opportunity to hand raise a Rufous Betong, which has been a rewarding experience.
Growing up, Remi always admired Steve Irwin, and his parents took him to see him at Australia Zoo when he was just 4 years old. Looking to the future, he hopes to work with a Thorny Devil or a mob of NailTail Wallabies. When he's not at work, Remi enjoys playing Softball in his spare time.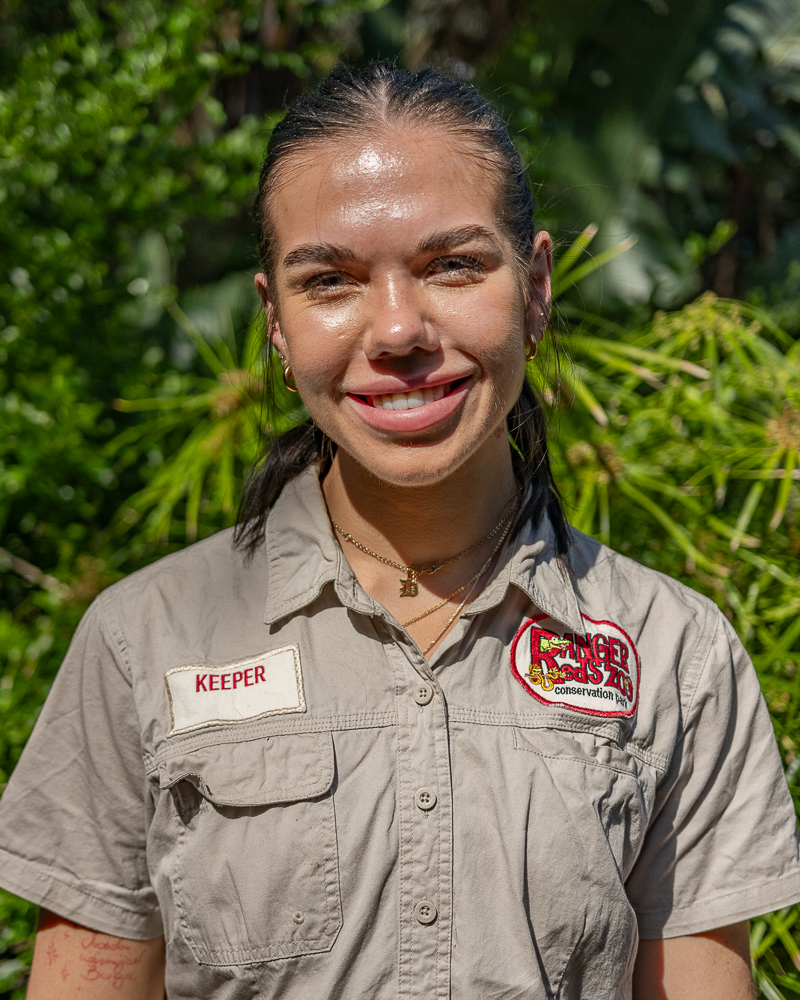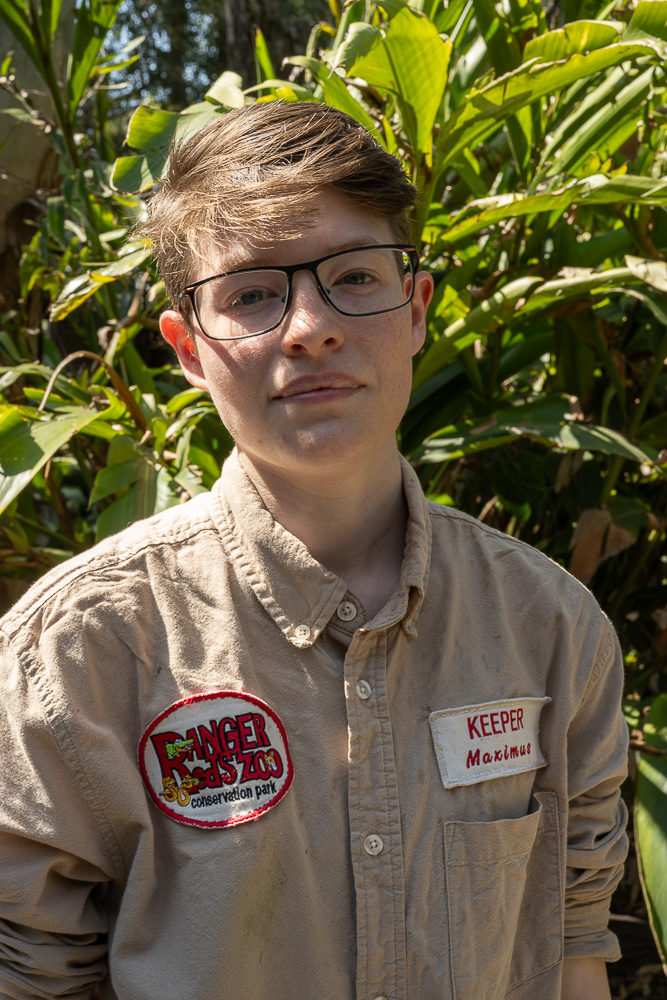 Maximus
Keeper
Meet Maximus. His journey with animals began at a very young age after developing a fascination for cheetahs, Steve Irwin, David Attenborough, and the African Savannah. An expert at memorising animal facts since childhood, he's well known by family and friends for his extensive – and often niche – knowledge. A peoples person, he loves working with the public to help them learn about animals, and is always down to answer any of your questions. 
As a student, he continued his journey as an animal carer by volunteering at Kanyana Wildlife Rehabilitation Centre. Having volunteered there for five years and taken up a role as supervisor for his shift, he is a responsible, motivated and hard-working keeper with years of experience. It was through this work his lifelong goal to work with animals began to be realised. 
Maximus has also completed a Certificate III in Captive Animal studies at Perth Zoo, where he greatly expanded his skills, experience and love for the job. It was here he worked with primates, large carnivores, wetland birds and other native species. Maximus also gained a great appreciation for animal enrichment, which involves setting up puzzles, activities and experiences for the animals that encourage their natural behaviours. In his free time he enjoys taking walks with his dog, Toby; playing with his pet cat, Mowgli; and working his way through Lord of the Rings.